Where to find the most affordable new homes around Joint Base Lewis-McChord?
Lets find out which cities near JBLM have the most selection of new construction homes for sale. Then lets take a look at which areas are the most affordable.
First off, take a glance at total new home inventory: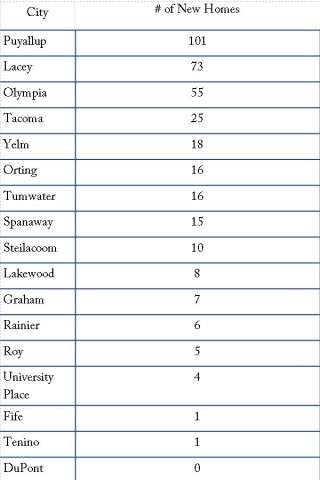 Puyallup, Lacey and Olympia have the most new construction homes for sale. Why not Tacoma, you ask? After all, it is the biggest city around JBLM. Simply put, most of the land within the city limits of Tacoma has already been developed, so new construction is mostly limited to condo complexes and infill lots. (Infill lot = zoning codes change over the years and allow for a higher building density in residential areas. Developers will purchase older homes on large lots, subdivide the lot, and create one or more new buildable lots.) Olympia, Lacey and Puyallup, on the other hand, have a relatively large amount of raw land that has been recently developed, allowing for many new constructed neighborhoods to be built.
Puyallup, Lacey and Olympia have the most new homes to choose from.
Let's dig a bit deeper and check out which areas have the most affordable prices for new construction homes. I added price per square foot as a column to the statistic table: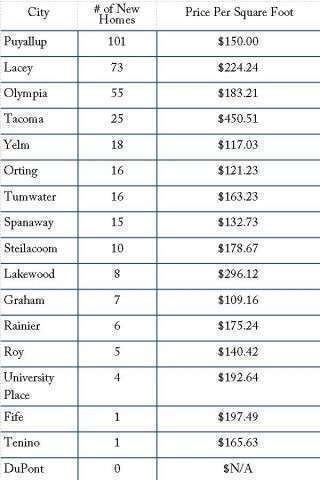 Puyallup tops the list as being relatively affordable and having the most new construction homes to choose from. Olympia isn't far behind, but Lacey seems to be quite a bit more expensive. The reason for this is Jubilee, a large 55+ retirement community on a golf course that has relatively small homes that sell for a premium. If we were to remove these homes from the statistics, I suspect the data would be more in line with the others. Tacoma is the other outlier here, as it is the most expensive. But this makes sense as vacant property is at a premium, explaining why the few new homes that are built are going to be very nice and sell for a lot of money. It is worth noting that Yelm and Graham are both an easy commute to JBLM and currently have the most affordable new construction for sale around JBLM, granted they do not have the selection that Puyallup, Lacey and Olympia have. As we get further down the list towards the bottom, there really isn't enough real estate inventory to make a reliable price per square foot comparison.
You can view all of our statistics and real estate listings on our Joint Base Lewis-McChord webpage here. We update every 30 minutes so check back often!