How to Fill Your Home With Stories You Already Have.
So my husband has this chair. It's not in very good shape, nor does it go with much of anything we own. Yet, it has happily hopped from house to house with us twice and by golly, settled in quite nicely. And although it's like a big hug when you sit in it, that's not at all why we keep it. In this chair's cushions and arms are the memories my husband has of watching his dad work, holding his newly adopted shelter cat, and just plain being little. There are stories in that piece of furniture that continue to live in our home even when no one is telling them out loud - and that is what I love about it. In fact, most of my favorite things in our house happen to be the ones we didn't purchase in a store. They are the hand-me-downs, the photos taken, the wooden radio table from my great grandmother, the tiny, dirty handprints I outlined in paint that make their way up our stairs from the day we first moved in.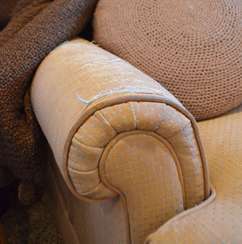 So what I serve you today is this comfort food for thought: why not try decorating with your own version of our seasoned chair? While the hope chest at the end of your bed or the tissue paper filled box at the top of your closet may be cozy places to store your precious family heirlooms and tokens of the past, they're not being visually appreciated and shared while tucked away like this. I declare, what a waste! If you're like most people, you probably won't need to look far for these priceless items. Maybe you already have a passed down table or a box of photographs patiently waiting in the garage. Part of creating a home is bringing to it who you all are, where you came from, where you've been, and why you're here. Within each of these answers lie opportunities to share once upon a times, momentos and memories proudly on your walls and bookshelves. While it can certainly be both pretty and stylish to have Pier One be the sole sponsor of each and every knick knack you own, think of the character and personality that displaying your dried wedding bouquet, a child's hospital footprints or Grandpa's high school photo would bring instead.
I try to incorporate my husband's and my childhoods into my decorating not only for our own warm memories, but for our children to grow up around as well. An example of this would be the two antiqu-esque frames we have hanging in our dining room - each holding a photograph of the street sign from the homes we grew up in. Our little ones will know that these are the special places that Mommy and Daddy came from, just as our street name will belong in their own histories someday. Before finding out that we were expecting our first child, a Chinese dinner gifted me with the tell-tale fortune, "Good things come in small packages. One is coming to you." Three days later, we had a positive test and nine months later, we had a beautiful baby girl. This tiny treasure still sits on a shelf in our three year old's room.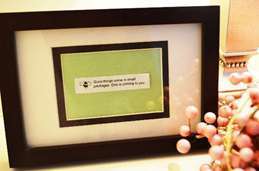 We also have this joke at our house when my husband wears this intensely orange shirt that he owns. It's endearingly known as his "LL01 shirt" because of the day (and days thereafter) our daughter was born, he donned this polo for 72 hours straight. Never changed, never thought to change. It accompanies his nervous smile in the before photos, touches our daughter's brand new skin as he held her for the first time, and brightly stands out in the going home pictures two days later. It was a pretty thrilling three days, mind you. But because of this, a sticker badge boldly reading the name of my hospital room, LL01, clung to the shirt's right shoulder the entire time. Once we returned home, he hung it in his closet just the way it was and didn't wear it again for months - the typed room number still intact. When it came time to finally drag it into the wash, I couldn't bring myself to throw away the sticker. It just felt like so much more than a used name tag. So, being the nostalgic mush that I am, it was quickly framed and sentimentally placed on the dresser in our closet. The small, gold frame cost me a total of a dollar and eighty cents, but saving that simple room tag is invaluable. Lucy will know its story soon enough and hopefully feel the overwhelming love her dad has for her, even on day one. So much so, that he forgot to change his shirt.
No worries if you're not a Susie Saver, you can start creating these tokens of affection today. Bring your camera to important places of your past or capture sweet everyday sights in your life - take pictures of the sign of the restaurant you met you husband at, a close up of your baby's hand with the dog's paw, the address numbers of the house you grew up in. These precious images hung or displayed will provide a sweet addition to the usual smiling faces that fill most picture frames. Shadow boxes can be a chic way to present larger items too. These kinds of decorations do a spectacular job of eliciting questions from friends and guests as well. Inquiries such as, "Where is this from?" and "What's the story behind this bench photograph?" will surely give you the pleasant chance to answer with your family history and teach all within earshot (including your littles) what makes this item so significant.
The extra beauty in this form of decorating your home is that the direction you take is completely individual to your own story. I can share oodles of examples in how we've dove into this idea, but it's really up to you to recognize the precious moments, funny tales and irreplaceable artifacts that are awaiting presentation in your own sweet family.
Happy heartfelt hunting!